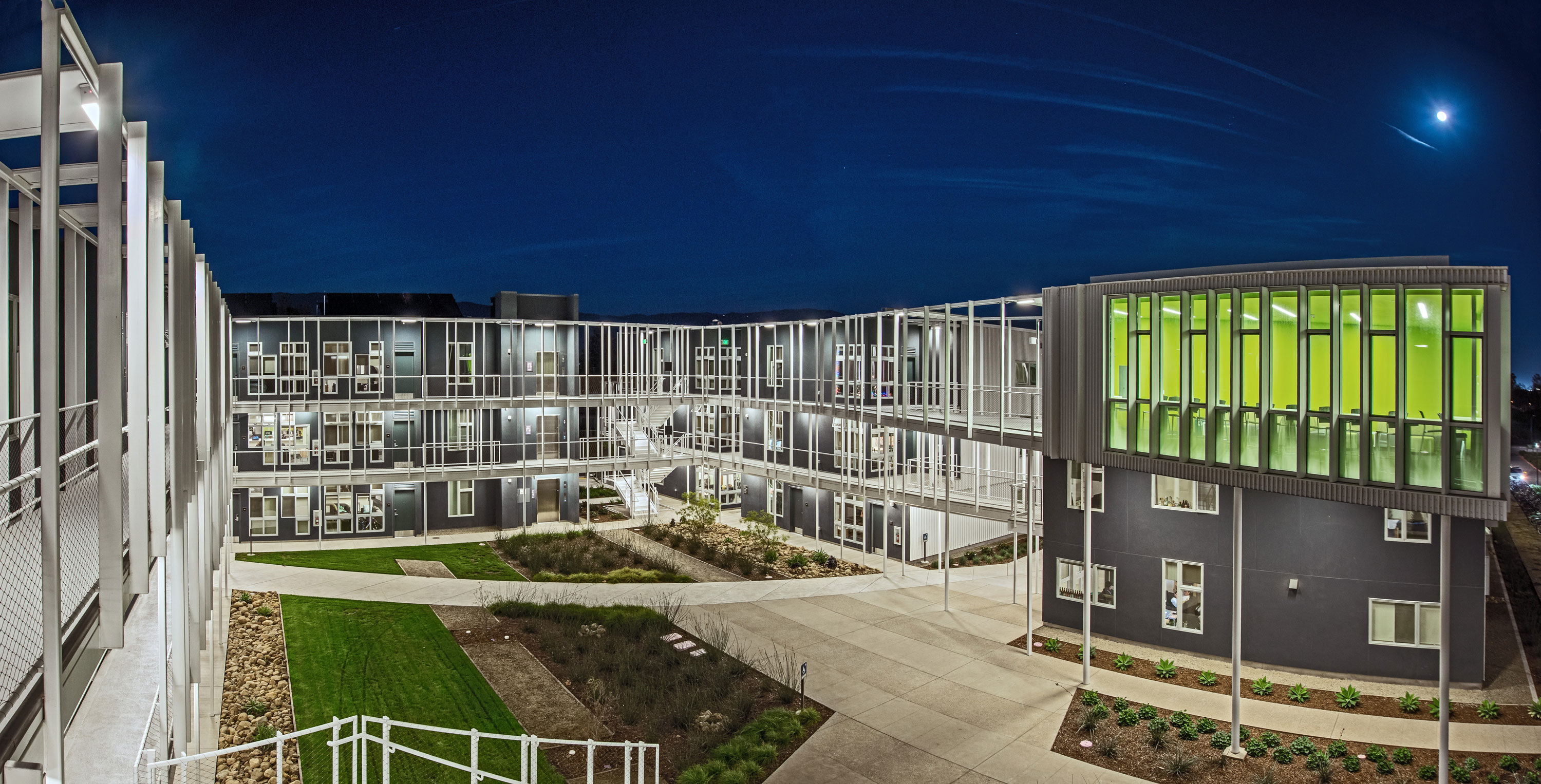 San Joaquin Villages
UC SANTA BARBARA'S NEWEST APARTMENT COMPLEX for third and fourth year undergraduate students, this urban style housing is a short off-street bike ride from the middle of campus and is conveniently located adjacent to four bus lines. San Joaquin has four Faculty-in-Residence who advise residents and provide opportunities for residents to meet other faculty members. Professional live-in staff and Resident Assistants are available for after-hours assistance and community building.
Amenities
Location:

650 Storke Road: San Joaquin North Villages (Elsinore Court, Calaveras Court, Malibu Court, Ramona Court)
750 Storke Road: San Joaquin Tower Villages (Tenaya North, Tenaya South)

All apartments are fully furnished 3-bedroom double or triple occupancy with 2 to 3 students per bedroom. The North Village consists of 107 three-bedroom two-bath apartments in four two- to three-story buildings. Along Storke Road are two six-story Towers that have top-floor terraces with views overlooking a central plaza of courtyards and open space. The North Tower has 24 three-bedroom two-bath apartments, and the South Tower has 34 three-bedroom two-bath apartments.
There is one elevator per each of the two towers, and one in each of the clusters in North Village which are accessible via bridge walks between the buildings.
All-inclusive nine-month contract includes high-speed wireless internet access, regular landscaping and housekeeping in community spaces, on-site laundry rooms, gas, electricity, water, garbage pick-up, and 24-hour on-call maintenance and emergency staff.

Bedrooms are carpeted and contain an extra long twin size bed, a closet, a drawer, a desk and chair for each student.

Kitchens have vinyl flooring and are equipped with cabinets, a sink with garbage disposal, a stove, an oven, a microwave and a refrigerator.

Living/Dining Rooms are carpeted and furnished with a couch, chair, end tables, coffee table, lamps, dining table and dining chairs.

Bathrooms have a tub-shower unit, wash basin, toilet and medicine cabinets.

Living Learning Communities: Black/African-American Scholars, Chicanx/Latinx Scholars
Live-in staff members facilitate social, academic and educational opportunities through utilization of a curricular approach.
Don't feel like cooking? UCSB Campus Dining offers students who don't live in the residence halls the option to eat in the UCSB dining commons during the academic year through the Off Campus Meal Plan.
For more information about parking, please visit our Parking page.
To inquire about gender-inclusive housing options available for students that identify as trans* or non-binary, please contact University & Community Housing Services at housinginfo@housing.ucsb.edu.
Nearby
Tenaya Market & Eatery, a full-service market with a coffee bar and ready-made food to go.
North Campus Open Space that boasts more than 2.5 miles of trails with scenic views and connectivity with the California Coastal Trail.
Virtual Tours
Gallery