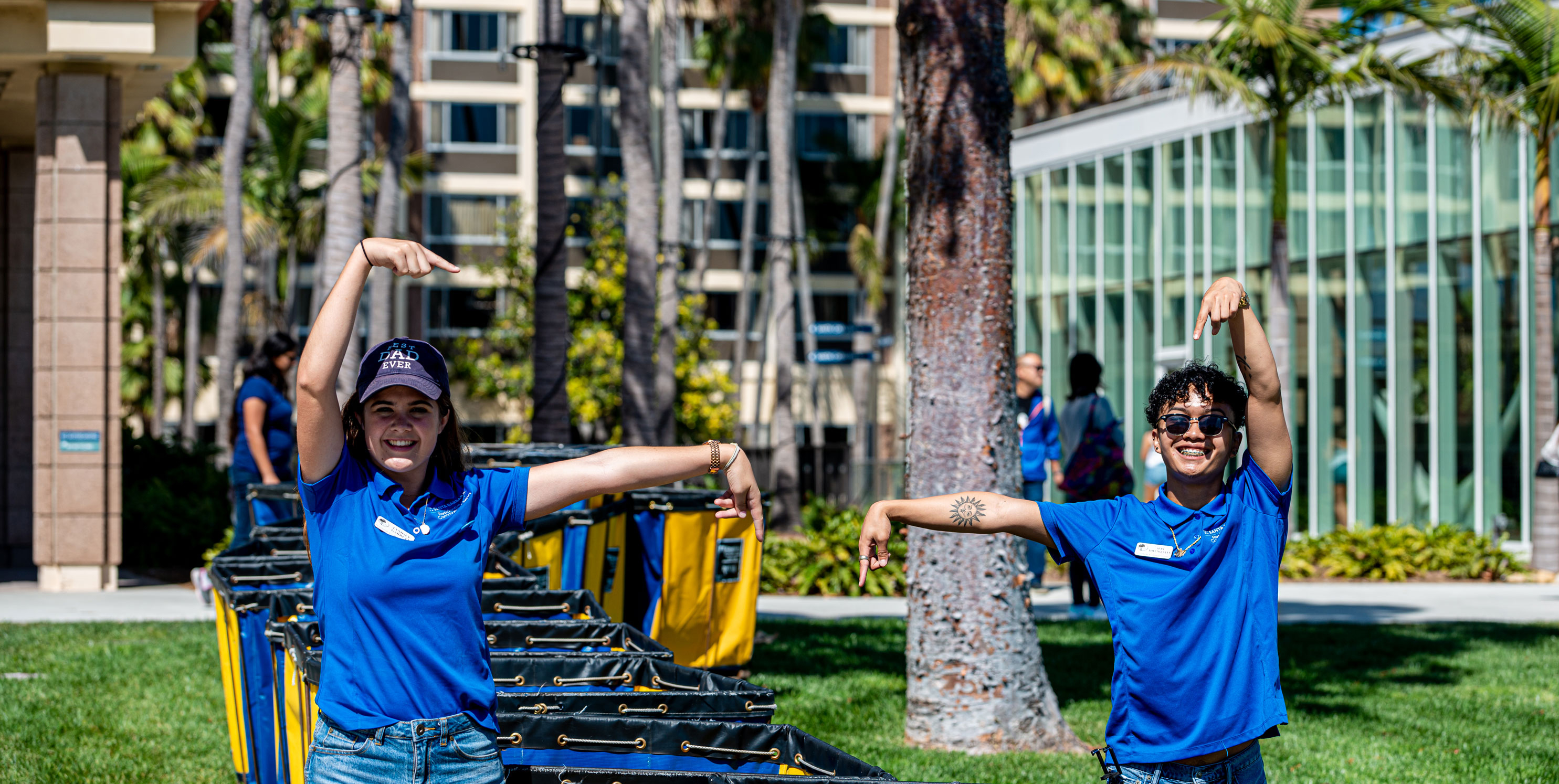 Resident Assistants have the unique opportunity to build communities and make lifelong connections with their peers. If you're looking to develop professional skills, make a positive impact on others, and be part of an amazing team, then consider applying to work with us. We'd love to have you on our team! The 2024-2025 RA application will be open December 1, 2023 through January 17, 2024 at 12 noon.
What We're Looking For
RAs take on a lot of responsibility, so we're looking for candidates who are ready for a challenge! We are looking for folks who can:
Build strong communities and make human connections.
Help foster a safe and welcoming environment for all.
Promote academic success, learning, and wellness.
Provide support and services to residents.
Be present and engaged in the community.
Be open-minded and willing to learn all of the above.
See below for more information.

The RA position is time intensive, requiring around 10-18 hours of work per week. Below are some of the time commitments you can expect as an RA:
Weekly staff meetings on Wednesday nights from 6:30-8:30pm.
Weekly one-on-one meetings with your supervisor.
Hosting programs and other community building initiatives.
Serving on an after-hours on-call rotation with your staff, including holidays and breaks.
Attending Student Leadership Development (SLD) training in September.
Providing support during residence hall/apartment openings and closings, as well as special campus events (Halloween, Deltopia, Spring Open House, etc).
Beyond these requirements, we also ask our RAs to be flexible with other commitments so that they can be present in their community and available to residents.
Although our staff members are unique and diverse, we do have a set of standards that all RAs have to meet. To be eligible for the position, you must meet all the following requirements:
Maintain full-time student status.
Maintain an overall 2.3 GPA and a minimum 2.0 quarterly.
Maintain eligibility to live within the community in which you work.*
Maintain good academic and judicial standing with the University.
Successfully pass a background check.
Be eligible to work in the United States.
Abide by all University, federal, state and local laws, policies, and procedures.
If hired, the appointment for the position is for one academic year. Candidates who are eligible have the option to apply for a second year, but are not guaranteed a position. Undocumented students are welcomed and encouraged to apply, but must be able to provide proof of employment authorization.
If you are an international student, you must have a visa, F1 or J1. The RA position counts toward the 75% employment maximum for graduate students. RAs who are grad students will need to limit their total employment (RA 24% and any other UCSB positions) to 75% per the grad division.

*For Family Student Housing Candidates: All applicants must currently be living at Storke or West Campus housing or on the waiting list to live at FSH by March 1, 2023. Partners of students are eligible to apply for the Family Student Housing RA position without being a full-time student. If you are an international partner, you must have a J-2 visa with a work permit.
We want to make sure our staff are well-compensated for the hard work they do. Compensation includes:
Housing accommodations in your assigned community rent-free. (Gas, electricity, internet and water are included. RAs are not eligible for California Renter's Credit.)

Single-occupancy room for Residence Hall RAs.
Studio or one-bedroom unit for Undergraduate and Graduate Apartment RAs.
One- or two-bedroom unit for Family Student Housing Apartment RAs.

Weekly meal plan for Residence Hall RAs
A biweekly stipend of $90 for Residence Hall RAs / $103.50 for Apartment RAs, Graduate RAs and Family Student Housing RAs
Professional development in skills such as customer service, event planning, conflict management, emergency response, and more.
Learn more about campus resources and work with UCSB staff and faculty.
Make lifelong connections with some of your fellow staff members and residents!
Questions?
Review the tabs above for information about being an RA in specific communities, take a look at our Frequently Asked Questions or email us directly!
Follow us on Instagram [@ucsbraselection] for daily posts, RA Takeovers, important updates, and more information about the RA position!
The RA application will be open December 1, 2023 through January 17, 2024 at 12 noon.
Late applications will not be accepted.
If you need any accommodations or have accessibility questions throughout the process, please send us an email at housing-raselection@ucsb.edu